October is Domestic Violence Awareness Month
Guests: Linda Amidei, Barbara Ellis, Elihu Brayboy
Thirty one percent of American women (that's nearly one in three!) say they have been abused by a husband or boyfriend. Tampa Bay area battered women's advocates talk about services available locally and upcoming events planned to bring awareness and hopefully a near end to this pandemic.
Visit CASA, or call 727.895.4912.
Visit The Haven, or call 727.584.3528.
Visit The Spring, or call 813.247.SAFE.
Visit SPCA, or call 727.586.3591.
National Domestic Violence Hotline-800.799.SAFE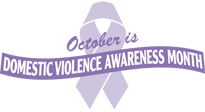 Listen to Show: